Iowa-Grant History Book
Central to all small communities in rural America was the value placed on education. The schools, along with churches, were the glue that kept these small settlements and villages together, thriving and providing an unforgettable way of life for over a century. Life was hard then, by today's standards, but everyone seemed to be in a similar situation. Education became the key. The schools played a vital role with each generation learning and growing in their trades, their farming practices and their family-centered way of life.
This book tells the story of one such area in beautiful southwest Wisconsin where over 40 small school districts consolidated into one larger district encompassing nearly 200 square miles. The rural leaders in the 1950's realized that the one-room school concept could no longer meet the growing needs of their children. Society was advancing and education, once again, remained the key. Rural cooperation is well exemplified in this book as these tiny districts looked to a future of growth and opportunity and claimed it for their families. They birthed the school known as Iowa-Grant. The name tells proudly of its origin in both Iowa and Grant counties.
Some fifty years later, education still remains the vital key to the success of our children. This look back in history may just remind us that there is still a part we must all play to keep it growing forward. This look at the past an also show us how collectively we can take an idea and build it into something bigger than each of us can do alone.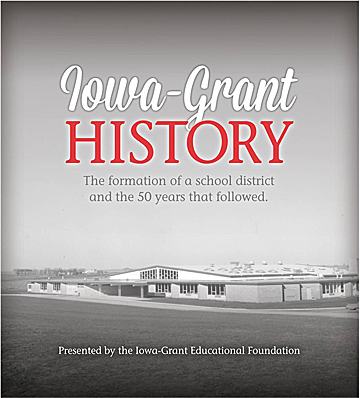 . . . Anniversary Special Pricing . . .
To honor our 3rd anniversary since the IG History Book was published, we are offering this 312 page hardcover book at it's best price ever -- now just $20. It's a great time to think about any gift giving opportunities you might have -- like birthdays and holidays!
The index in this historic book includes well over 5000 names of students, faculty, support staff, schoold board members, administrators, parents and community members. Your purchase of this book supports the mission of the Iowa-Grant Educational Foundation that has been in existence since 1999.
Where to Purchase
Cobb ---------
Royal Bank
Dodgeville - Christianson Law Office
- Iowa County Historical Society
Edmund ----- Farmers Savings Bank
Livingston -- Community First Bank (Livingston State Bank)
Montfort ----- Rural Route 1 Popcorn
Platteville -- Chamber Office on Hwy 151
Iowa-Grant - High School & IG Elementary/Middle School
How to Purchase​
Credit Card -- Amazon.com
--- Search for "IowaGrant History" (without the hyphen) on the Amazon web site.
By Check ---- Download the PDF Order Form below.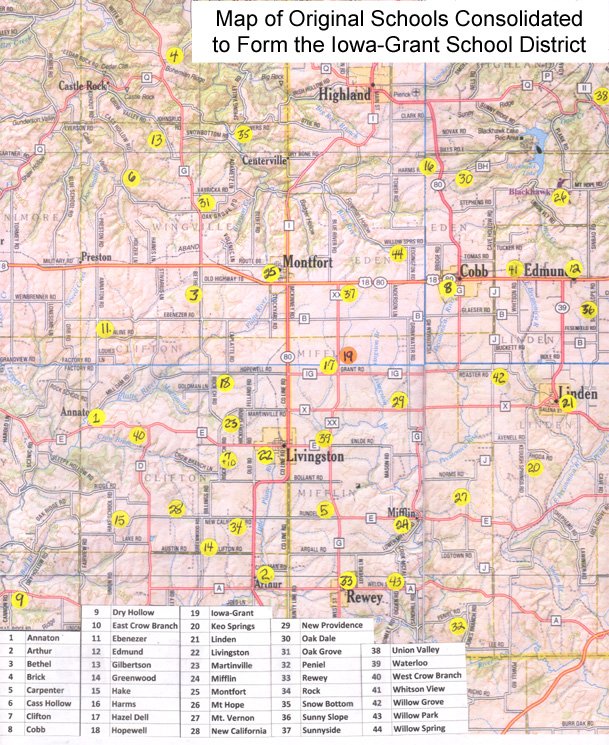 ​